"Allan Ishac's satire is a hilarious takedown of Trumplethinskin!"
–John S., NYC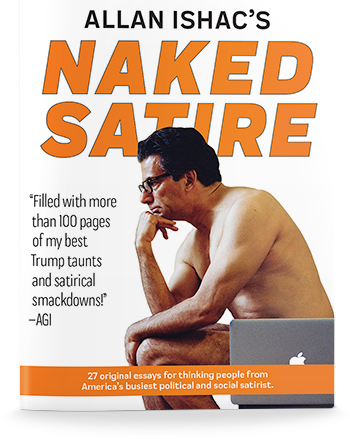 "The Best Political Comedy Anywhere — Ruthless, Rude, And Painfully Funny." – Catherine H., Ohio
In his new book, Naked Satire, Allan aims his unique brand of political humor squarely at Benedict Donald and his White House cadre of co-conspirators, sycophants, and bootlickers.
It includes more than 100 pages of satirical smackdowns that knock POTUS off his pedestal and will keep you laughing all the way to the impeachment.
Allan's daily humor post at medium.com/@allanishac has attracted nearly one million readers a month. Now he's ramping up the resistance with Naked Satire—27 original, unpublished, all-new essays designed for maximum, coffee-spewing laughs in the midst of the Trump travesty. And it's just $3.99.
Allan Ishac's Naked Satire is consistently riotous, rude, and unapologetic—just the way his readers like it. Download it now and be part of America's army of satire taking down Donald Chump!
"Thanks for writing what you write and for being who you are. If it weren't for your humor, we'd all be nuts by now." — Susan M., Seattle
"I finished your book, Naked Satire in one reading about 4 AM this morning. Couldn't put it down. Loved it!… Hurry, write another!" – K. Stinson
Allan's Most Recent Posts On Medium