The Book Michael Wolff Wished He'd Written About Donald Trump!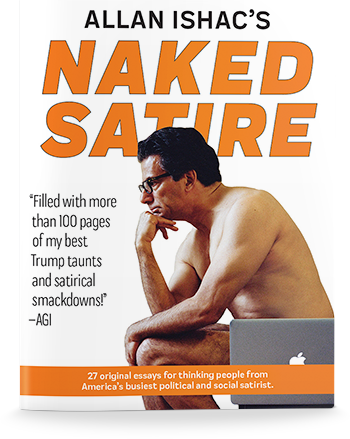 My new e-book might not be Fire And Fury, but it is ruthless, disrespectful, and irreverent. It's also just $3.99.
After the election shock of 2016, I started writing political humor believing that the Orange Accident could be brought down by what filmmaker Michael Moore called an "Army of Satire."
I quit my day job as an advertising copywriter and started writing satire every day, seven days a week, aimed squarely at Adolf Twitler and his cadre of co-conspirators, sycophants, and bootlickers (see me bite Trumplethinskin daily at medium.com/@allanishac).
I'll keep writing until the faux POTUS is no longer lying in the Lincoln Bedroom because posting my satire has given me a much-needed sense of purposeful protest. And my Medium readers—more than 950,000 strong as of December 2017—have been with me every step of the way (thank you!).
Now I'm ramping up the resistance with my new e-book, Allan Ishac's Naked Satire—27 original, unpublished, all-new essays designed to keep you laughing in the midst of the Trump travesty. You'll get more than 100 pages of merciless political humor and savage smackdowns for only $3.99.
My writing is rude, snarky, and unapologetic—just the way my readers like it. And The Donald doesn't.
Download my new e-book for only $3.99 by clicking the button below.